---
Science From XMM-Newton
---
Galaxy Cluster J1226.9+3332
Cluster J1226, at a redshift of 0.888 is a fascinating system, and is the most distant X-ray luminous, massive cluster known. Discovered in archived ROSAT pointed observations by the WARPS survey, this cluster has been the subject of multi-wavelength follow up observations, including a 30ks observation with XMM-Newton.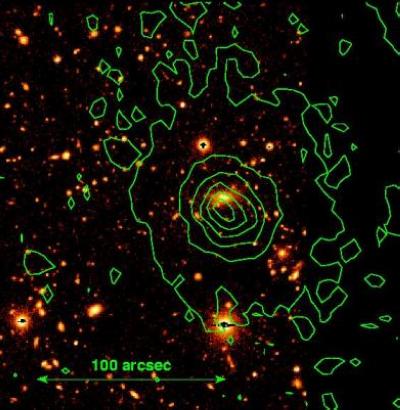 The image above shows contours of the X-ray emission detected by the three EPIC cameras aboard XMM, overlayed on a Subaru I-band image. The system is relaxed; this is the environment in which hierarchical models predict galaxies form first.
---
XMM RGS Spectrum of M87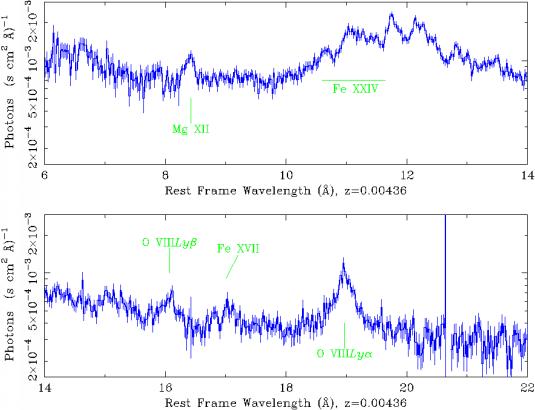 High resolution X-ray spectrum of the nearby, elliptical galaxy M87. The data reveal a wealth of emission lines that come from the hot atmosphere in, and around the galaxy.

M87 is located at the centre of Virgo, which has been thought to host a cooling flow. The above spectrum indicates that the X-ray emission originates predominantely from gas at temperatures of approximately 1 keV. The weakness of lines from cooler gas (e.g., Fe XVII) implies a deficit of gas at lower temperatures, suggesting that either our cooling-flow models are not correct, or that there is a source of heating in the core region of Virgo.
---
NGC 4258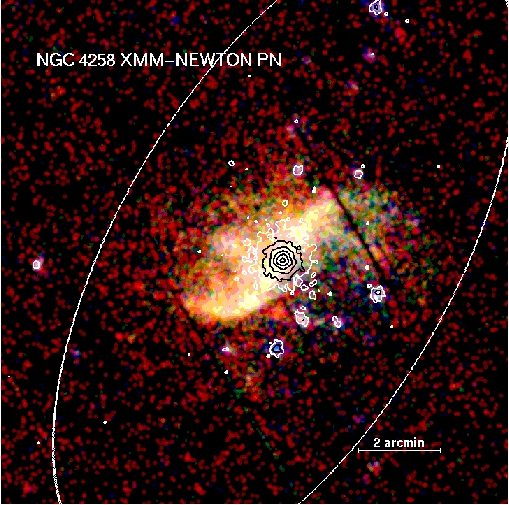 This 3-colour XMM-Newton PN image shows soft (red), medium (green) and hard (blue) X-ray emission with contours of very hard ($>$2\,keV) emission from this nearby spiral. Complex unresolved emission from the `anomalous arms' dominates the softer bands, while emission from the obscured, 36 million solar mass active nucleus dominates the hard band.
---
Ben Maughan Last modified: Mon Feb 18 11:02:28 GMT 2002