Data Products
Publications
The Complete Local Volume Groups Sample - I. Sample Selection and X-ray Properties of the High-Richness Subsample (O'Sullivan et al. 2017a) describes the sample selection process and results from the X-ray analysis of the 26-group high-richness subsample. The paper discusses the fraction of groups with group and galaxy-scale X-ray halos, cool cores, evidence of mergers, and central radio jet sources, and the relationships between these properties. It also discusses the lack of high-entropy groups in the sample, the tendency for the lowest mass groups to have central temperature peaks, and the lessons that can be drawn from CLoGS for future X-ray group surveys.
The origin of the X-ray, radio and HI structures in the NGC 5903 galaxy group (O'Sullivan et al. 2017b) examines the complex multi-phase structures in the low-richness CLoGS group NGC 5903, in an attempt to determine the interaction history of the group member galaxies. We report the first detection of an extended, X-ray bright hot intra-group medium, whose disturbed morphology is closely correlated with the previously detected steep spectrum diffuse radio source and 110-kiloparsec tidal HI filament, suggesting a series of gravitational encounters between the group members.
Cold gas in group-dominant elliptical galaxies (O'Sullivan et al. 2015) uses CLoGS as a basis to examine the molecular gas content of group-central early-type galaxies. Using a subset of the CLoGS groups observed by the IRAM 30m telescope, the paper finds a relatively high detection rate for CO, but a short depletion time (despite low star formation rates) indicating that group-central galaxies must replenish their molecular gas reservoirs on timescales ~100 Myr.
Conference Talks and Posters
Initial results from CLoGS
are presented in two conference proceedings papers,
O'Sullivan et al. (2014)
and
Kolokythas et al. (2014)
, from
The Metrewavelength Sky
conference in Pune, India, December 2013.
Slides from the CLoGS talks given by Ewan O'Sullivan and Konstantinos Kolokythas at
The Metrewavelength Sky
(
left
). CLoGS posters presented at the 2013 AAS HEAD meeting in Monterey, by Jan Vrtilek (
centre
) and at the 2013 UK National Astronomy Meeting in St. Andrews, by Konstantinos Kolokythas (
right
). Click to download PDF versions.
Example Images
Some example images from our first
XMM-Newton
dataset, showing LGG 402, are shown below.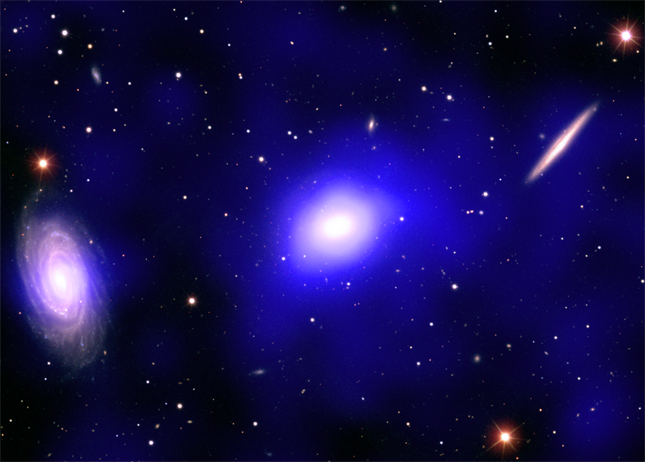 Smoothed XMM-Newton X-ray emission in blue, overlaid on an SDSS u,g,r,i composite optical image. We are able to trace the physical properties of the intra-group gas (temperature, density, entropy, etc.) out to around 85 kpc.
| | | |
| --- | --- | --- |
| | | |